Posted by David C. Baker on Sep 13th 2017
You've been vaping for a while now and feel like you've gotten the hang of it. You've graduated from mouth-to-lung inhaling and have mastered the art of direct-to-lung. You've been off traditional tobacco cigs and you know the joy of having your chains to smoking broken. Hell, even your once-cherished brand of cigarettes that you loved for so many years now smells and tastes horrible. You've made it. You've quit smoking with vaping and are enjoying your triumph. Let me just take a pause here to offer you our congrats. Quitting smoking is one of the hardest things to do and dangit you did it!
So, Now What?
Time to upgrade! Now is the time to go up in power and come down in nicotine. You see, the more powerful a device is, the more cloud it produces. The more cloud it produces, the more nicotine, in volume, you get hit with at once. EDITOR'S PERSONAL NOTE: When I started out on a standard beginner kit, I vaped 24mg nicotine juice. Years later, I'm satisfied with a 6mg juice because I vape on a device so powerful that 6mg hits more like a 12mg! So now what you need is the right tank to take you on your next step of the journey.
What Makes For the "Right Tank"?
When you started, you most likely did so on a device whose coil power was above 1 ohm. Above-ohm devices are ideal for beginners because they do not produce so much vapor that you can't inhale mouth-to-lung. Now that you've mastered direct-to-lung inhaling, you're ready for something with a little more oomph to it. Sub-ohm is the way to go. The more you go below 1 ohm, the more powerful that coil is going to be. It will produce more cloud and you will taste nuances in your favorite juice you never noticed before! When you first get into sub-ohm vaping, I suggest you start around a half of an ohm (.5). While that is twice as powerful as most beginner kits, it's not such a GIANT leap that you shouldn't be able to adjust quickly as long as you are using lower nicotine in it.
Any Suggestions?
Glad to recommend! To make this list I factored in several criteria.
Low-end of the sub-ohm spectrum
Ease-of-use
Great flavor and vapor.
So here are my Top 3:
#3 The Joyetech AIO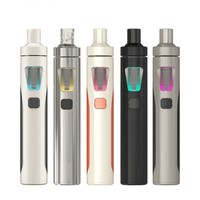 I can hear y'all now, "Woah woah woah! You said this was about tanks – not kits! And isn't this your #1 starter kit from your previous article? What gives?!?" With most starter kits, they come with your typical low-powered beginner coil. When you outgrow those and are ready for more power, Joyetech makes sub-ohm coils that are great for beginners! Plus, its all-in-one tank and battery design means you don't have to worry about putting it in your pocket, sitting down wrong, and snapping your tank off. It's built in! With adjustable airflow and a virtually leak-free childproof cap, the Joyetech AIO is a fantastic kit that offers a great introduction to sub-ohm vaping. Big J has a lot to say about this device and even has a tutorial on how to clean and maintain it! Check out both videos here and here!
#2 SMOK TFV8 Baby Beast Tank
This compact tank has quickly made a big name for itself in the vaping marketplace. It holds a respectable 3mls of juice and its Hinge and Lock top feature makes it easy to fill. The coils for this tank come in .2 ohms. That's makes it the most powerful tank on this list. Jumping from 1.5 ohms to .2 ohms may be too big of a leap for some but, once you get used to that much power, you will enjoy big flavor and big clouds. As always, Big J gives a great review that you can check out here!
#1 The Cleito EXO
I have tried every tank under the sun since the original MAP Tank that started it all. With most tanks, it's an either/or proposition. You either get great flavor but lousy cloud or you get great cloud but muted flavor. The original Aspire Cleito changed all that. With its dual Clapton coil design it trapped twice the amount of juice against the cotton giving you double the flavor and double the vapor of any tank I had ever tried. It was the best damn tank ever as far as I was concerned but, as with all things, there were some flaws. One, the glass was too fragile and the tank tended to be leaky. People LOVED the flavor and vapor but were frustrated with its drawbacks. Well, Aspire listened.
The Cleito EXO is the newest version of the original Cleito and it is nothing short of amazing. Gone is the fragile glass housing. It has been replaced with a metal sleeve and acrylic window so you can see your juice levels. Additionally, Aspire moved the airflow from the bottom to the top. For this thing to leak, it would have to practically defy the laws of gravity! It still uses the same amazing dual Clapton coils as the original. You get big flavor, big vapor, with a tank that you don't have to worry much about breaking or leaking. It is as close to perfection as I have seen. See for yourself Big J's honest review of the Cleito EXO here!
So there you have it, gang, my take on the best tanks for those looking to upgrade from their beginner starter kits. Ultimately, the true "best tank" is the one that gives you the flavor and flavor that makes for the most satisfying vaping experience for YOU.
Vape on!